E2N can automatically correct recorded working times, which overwrites the recorded time and compensates for deviations.
You can access the daily working time overview in the main menu under > Working times.
Working times (if available) are compared with the shift in the duty roster. The working time is checked for punctuality. Optionally, you can have E2N correct the clocked times to the planned shift start or end in the duty roster.
1 Procedure
If you move the mouse over the punctuality icon, a note about the deviation appears.

To overwrite the stamped working time to the scheduled time, click on the punctuality symbol next to the time.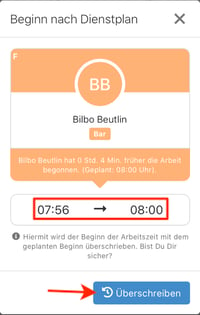 If you have activated the events, the stamping time remains visible even after the correction.